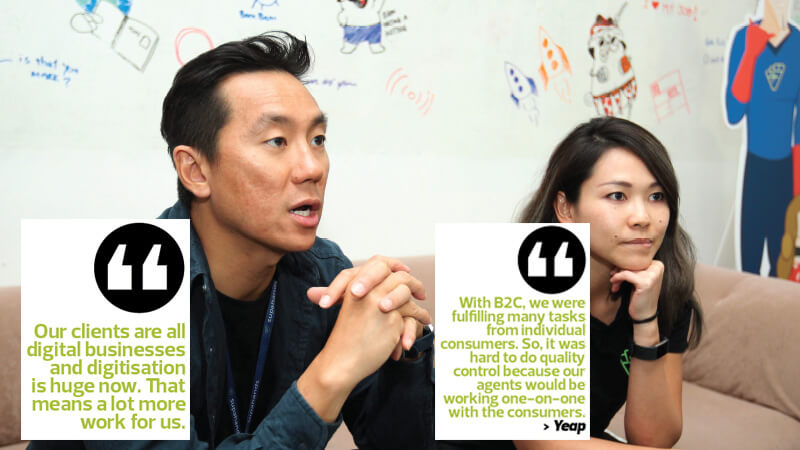 According to the Pareto Principle, named after Italian economist Vilfredo Pareto, about 80% of the consequences come from 20% of the cause. Outsourcing start-up Supahands has found this to be true. "I think the principle holds true for the many things we do on a daily basis," CEO Mark Koh tells Enterprise.
The company had started out as a business-to-consumer (B2C) platform, helping people to find virtual assistants known as SupaAgents. It rode the wave of the gig economy, allowing people to buy time and improve efficiency by outsourcing their non-core tasks.
For two years, Supahands focused primarily on its B2C business, carrying out tasks such as transcribing, doing product and service research and preparing travel itineraries. It was even asked to do random things like call and harass someone who had borrowed but not returned a bicycle pump and help a lovelorn workaholic youth find a girlfriend.
But eventually, the opportunities presented by its business-to-business (B2B) segment — such as providing customer support and lead generation for projects — eclipsed those of the B2C segment. "B2B started generating about 80% of our revenue and according to the Pareto Principle, it is always 20% of the work you do that generates 80% of the revenue. So, we decided to focus on that 20% and turn it into the 80% portion."
The company pivoted to the B2B model and instilled a new culture in its daily operations. "We always challenge our team to think about that 20% of what they do today — that is, generating 80% of the results — and that has become the key focus," says Koh.
He adds that while doing B2C was alright, he realised that it would be better to put the company's resources into "the basket that was generating the larger proportion of the revenue".
"For a business to scale and grow faster, it needs to be very focused on what it is building. That means the whole organisation needs to have tunnel vision on the key thing that is going to work very well," says Koh.
"Essentially, the B2B model would give us a better future down the line. So, we decided to shut down the B2C business last June."
Chief operating officer Susian Yeap emphasises the scalability of its B2B work as the key reason for the change in business model. The B2B projects, she says, were a lot more scalable than the B2C ones as they required "a lot more data to be cleaned up".
Data cleaning generally involves removing invalid data or presenting information in a standardised format (for example, changing "alvin kumar" to "Alvin Kumar"). Yeap says clients may want to clean up their data for general maintenance or when they are looking to change from one system — such as their customer relationship management system — to another, which may require the data to be presented in a different format.
"With B2C, we were fulfilling many tasks from individual consumers. So, it was hard to do quality control because our agents would be working one-on-one with the consumers. When we saw the numbers on the B2B side start to pick up, that was when we realised that was where the largest chunk of revenue was coming from," says Yeap.
While Supahands now focuses exclusively on B2B projects, it does not take on tasks like customer support or lead generation anymore. "We still do the data-heavy work, which includes database management, data enrichment and data cleaning. On top of that, we also focus on image annotation and data training for machine learning algorithms."
The platform has raised the bar when it comes to outsourcing by combining its in-house and remote workforce with its
proprietary technology and solutions. Koh says it started developing the technology in the later part of its B2C days, but the pace accelerated when its workforce — particularly its engineering and development team — grew and the company started focusing on B2B work.
Today, there are SupaAgents working remotely in Malaysia, Indonesia and the Philippines. Most of them are university students, professionals and stay-at-home mothers who do it for the additional income.
However, for some of them, it is more than just a part-time gig. Some of them chose to be SupaAgents after they were retrenched from their full-time jobs while others do it to shore up their business projects, says Yeap.
To become a SupaAgent, one is required to undergo a compulsory assessment, depending on the desired skillset. Then, a project manager assembles a task force for a project "based on the assessments that the SupaAgents have passed, their performance ratings and their availability".
"As many of our clients' databases usually go into the hundreds of thousands [of lines of data], getting their internal team to do this administrative work would cost them a lot of time and money. We help them deal with that headache by providing them with a huge workforce for the job, via our
SupaAgents, while only needing to communicate with one dedicated project manager," says Yeap.
To accommodate the increased workload, Supahands also transformed its platform. It currently has "Supahands Workplace", which helps project managers distribute work to SupaAgents as well as manage their earnings and project ratings. "We also have a 'Task Console' — a non-client-facing tech product that allows us to automate certain tasks — which speeds up project execution and makes them highly secure," says Yeap.
Koh says the company aspires to be regarded as the "masters of data cleaning" as it helps companies clean up, annotate, categorise and label data. The types of data include images, video content, audio content and text.
"So, that is something that we focus on a lot — dealing with any data that needs to be organised into a systematic format. It is the kind of work we love doing and specialise in. Our clients are all digital businesses and digitisation is huge now. That means a lot more work for us," he adds.
The company's pivot would not have been possible without its
financial backers. Koh says that since its inception, it has received funds from Axiata Digital Innovation Fund, which is run by venture capital firm Intres Capital;
early-stage venture fund and accelerator 500 Startups; and Cradle Seed Ventures (CSV), venture capital arm of early-stage financier Cradle Fund Sdn Bhd.
"And now, we have taken more investment cash from CSV in exchange for equity. So, I think our relationship is quite long term. All of these guys have played a massive part in our growth as they are all very much strategic investors," he adds.
These investors are also its advisers and mentors, helping it to tackle the challenges it faces. "The start-up network is extremely strong in Southeast Asia and everyone helps each other," says Koh.
As Supahands scales up, it is building its client markets overseas — such as Singapore, the US and Europe — as Malaysian companies tend to focus on tasks or projects related to data management or data-related work. That is because Malaysia is moving into the digital transformation phase, says Koh.
"For Singapore and the US, which are a little more advanced technologically, it is more about content moderation or image annotation. We have also seen interest from companies in the autonomous driving industry to help them with image annotation, which basically helps their self-driving cars see. There has also been keen interest from the retail and food industries to help them with image annotation or data tagging and categorisation," he adds.
Building a resilient culture
Supahands has been enjoying commendable growth since it changed its focus. Koh says the number of SupaAgents has jumped from about 100 to about 2,000.
"With the B2C platform, doing quality control work was challenging as the tasks were varied and there was no structured input. By focusing on B2B — which allowed the tasks or projects to be more standardised and structured, as well as to automate part of the hiring process — we were able to grow the agent pool in a short amount of time," he adds.
"That jump was huge, so we needed to bring more people on board as it meant more opportunities for more people. Our revenue has also grown substantially since and looking back, there are no regrets."
Koh declines to reveal any figures but says, "We aim to hit a certain number within the next few years. But right now, the key thing for us is growth. We are focusing on scaling up."
The company currently has 35 employees, comprising 14 nationalities, the majority of whom are full-timers. Koh says it always hires for culture and values so that everyone gets along well with one another. He adds that generally, employees would not want to go anywhere else unless the employer cannot provide the opportunities they need — whether monetary or personal growth.
"But I think everyone is looking at growing. And as long as the company continues to do so, then more opportunities and positions will definitely come up. As the business grows, our traction and revenue increase. So, it really attracts people to stay."
Koh believes that as an organisation, Supahands has a strong culture — something it takes pride in, considering that culture is a difficult thing to replicate. The internal activities that form its culture include "share affair" sessions held every Thursday and other sessions that allow the staff to exchange stories, experiences and lessons learnt.
"If you look at it from an outsider's point of view, with the 2,000-strong SupaAgents working remotely across Southeast Asia, it is difficult to replicate that kind of culture. So, we try to have an internal one that can be replicated externally," he says.
"We run a lot of live sessions to share things with the agents as we are transparent about what we do internally. We also have newsletters to get people on board with the business' vision, culture and values."
In terms of operations, Yeap says the pivoting not only increased the volume of work and agents but also changed how the company approaches projects. "Previously, we looked at the projects on an individual basis. Whereas with larger projects, the solutions are meaningful to the clients and everything is just at scale."
The vision of the business — or as Koh puts it, "one of our big hairy audacious goals (BHAGs)" — is to produce a million hours of work a day. "You would need hundreds or even thousands of agents working on your platform at the same time. The B2C model was a very slow way to achieve this, but it is more feasible with the B2B model.
"How you automate things, how you learn and build intelligence into the platform to streamline and speed up processes — they are all easier to do at scale. We also learn a lot more by working with large organisations as the connections built are very strong. It is an area that we really enjoy. It is sort of my background as well and a lot of the people here were B2B guys," says Koh, who used to work in the financial services industry.
Nevertheless, it is not lost on Yeap that scaling the business is not an easy feat, compared with managing a small business. "Scaling has been a challenge, as well as managing resources. The sale cycle also gets longer and we are just getting used to that," she says.
Koh says the challenge lies in creating a mindset shift. "On the team, it is not easy to get everyone on board. If you want to build a US$100 million business, how do you get everyone's mindset to shift? I think that is something we collectively as a group have to work on."
Hiring proves to be just as difficult, he adds, as a business that needs to automate aggressively needs a more skilled labour force. This is especially true for Supahands as it now engages with CEOs, product managers and operations managers as prospective customers.
"We definitely need data scientists, machine learning engineers, product designers and managers. Even the marketing side needs a whole different skillset as we look at product marketing and technical marketing abilities instead of traditional marketing models," says Koh.
While he acknowledges that there is a shortage of highly skilled talent due to the high demand in the tech sector, he says more people are upskilling to fill the gap. "I don't think it is a long-term problem. We get more supply of talent coming through and our guys are always thinking about upskilling.
"Essentially, it is about attitude. Skills can be learnt and if you have the right attitude and mindset, you can achieve whatever you want."