StoreHub, a startup that turns iPads into store cash registers, today announced it has raised US$850,000 in seed funding to fuel its growth in Southeast Asia. The fresh cash came from Silicon Valley-based VC firm 500 Startups and other unnamed investors.
Founded in Malaysia in 2014, StoreHub wants to grow its footprint in Thailand, Philippines, and Indonesia, where it already operates.
The company counts over 850 retail clients paying a monthly subscription fee of at least US$39, and has been profitable since late 2015, says co-founder and CEO Wai Hong Fong.
The iPads replace old and clunky cash registers.
Wai Hong stumbled upon the business idea while traveling in China in 2012. He says a friend who was running a chain of lingerie stores there had just set up a point-of-sale (POS) system. It was one of the usual clunky ones installed on a Windows PC that couldn't be updated easily, crashed often, and was ridiculously expensive.
"As I was looking at it with him, I got really annoyed at how badly designed it was and decided to look into solutions," he recalls.
Wai Hong, who's a businessman himself, having run and sold an ecommerce site in Australia before traveling to China, surveyed the market. "I saw how in the US, cloud-based iPad POS systems were revolutionizing retail. This was not the case in Asia, and so I decided to start StoreHub to change that."
StoreHub not only features a sleek replacement for the cash register, it also helps store owners easily manage their inventory and customer relationships and analyze their data. Now in the palm of their hands, they can see how much is in their cash drawer, how many items they've sold and for how much – in real time because all data is stored in the cloud.
Last month, StoreHub struck a partnership with publicly-listed payments giant GHL for a credit card payment solution that's now fully integrated into its platform.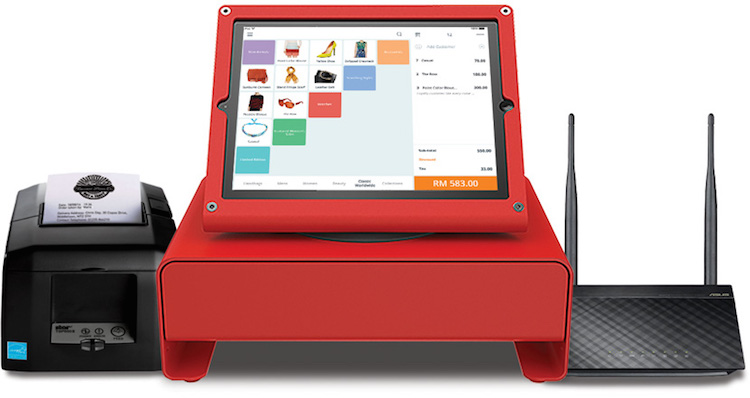 Zeroing in on retail
Globally, the main guys who are selling the same kind of product include Lightspeed, Lavu, and Shopify, but they don't have much of a presence in Southeast Asia, except in Singapore where they have one to two resellers each, says Wai Hong. In Malaysia, StoreHub's rivals are Ebizu and Slurp, while in Indonesia, there's MokaPOS.
"The vast majority of the local players are very F&B focused," he notes, referring to the food and beverage sector. "While the global players are mixed in their approach."
StoreHub is instead focused on retail from day one. "This is where our strengths and experience lie. I was a retailer myself," Wai Hong says.
He shares how his team had obsessed about the details of a retail operation from the start. A big part of that involves inventory management, which isn't simply about the quantity of products available, but also other processes like stock take, stock returns, and purchase orders. "It gets more complex in a multi-store scenario where you need to handle stock transfers and ensure stock visibility across all stores in a seamless way," he explains.
StoreHub offers all these abilities to retailers and more. "We also have a promotions feature that's rules-based. It allows the retailer, who runs promotions constantly, to easily configure a discount by setting up rules according to categories, product tags, customer types, store location. These are crucial features that are commonly missing for an F&B-focused or simple POS."
According to Wai Hong, the startup's potential market consists of over 300,000 stores in the region that are spending anywhere between US$2,000 and US$20,000 for cash register systems. "That means the addressable market in Southeast Asia alone is a staggering estimate of US$3 billion in revenue on an annual recurring basis," he says.
500 Startups managing partner Khailee Ng says StoreHub is the first such company that the VC firm has invested in.