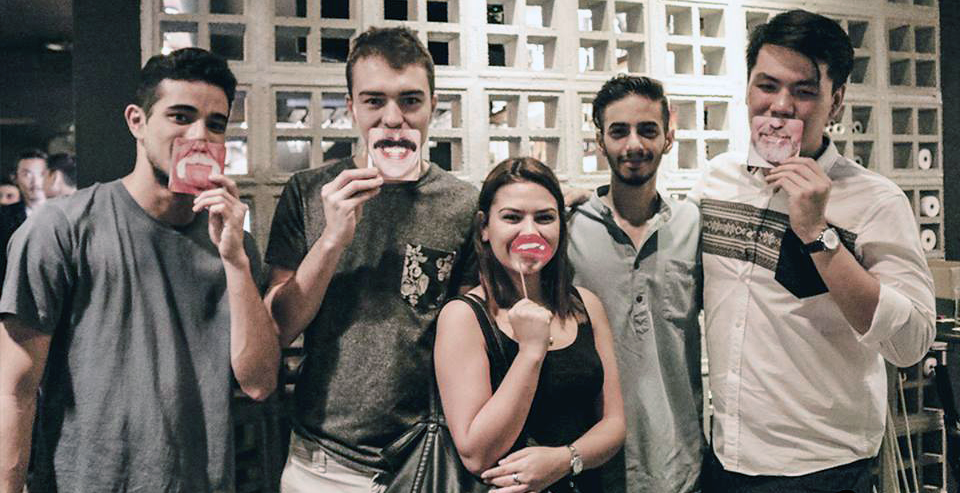 The month of November has come and gone, and our bros with mo's have re-emerged from their bathrooms beardless and baby-faced for the upcoming times of Christmas cheer. Or just the rainy season, if you're not into the yuletide.
To end the Movember month with a bang, Drink Entrepreneurs KL had their monthly shindig with 3ciety for entrepreneurs and entrepreneurial minds alike.
Their purpose? To save men from dying too early.
The night saw approximately 130–150 people in attendance. For many, they were novices to a Drink Entrepreneurs event but it is easy to tell that it's different from a normal bar outing with your friends once you step foot into The bngsr Tavern that night.
Everybody there for the night were constantly on their feet, moving around and jumping from table to table to network.
While some did move occasionally in pairs, it was an opportunity for players in their field to meet similar minded people.
From sustainability engineers to startup founders, there was definitely a variety of people to mingle with.
One of the more veteran attendees was happy to note that mostly everybody there attended for a similar purpose.
Conversations were light but easily evolved into scintillating exchanges over the condition of the entrepreneurial scene, or even nuanced outlooks on current events.
For Men's Health
Of course among the attendees for that night, some did come in support of men's health, and many even left with a newfound appreciation for the severity of prostate and testicular cancer.
For those who might not be in the know, the Movember movement was started back in the '99 by some Australian lads who were concerned with situation with men's health.
They encouraged men to grow out their facial hair for the entire month as a way to generate awareness for men's issues.
While Movember usually focuses on Prostate and Testicular cancer, the heart of the movement encompasses all of men's health issues including mental illness, and one of the biggest killers of men—a lack of awareness to all of these issues.
To contribute to the movement 3ciety sold Mystery Boxes, with all proceeds going to the Movember Foundation.
The team is happy to note that they were able to sell almost 90% of the Mystery Boxes they brought to the event that night, with the full sum for each sale going to charity.
The sales of these Mystery Boxes will continue up to the 10th of December so if you're keen on buying a mystery shirt for a good cause, simply head on over to 3ciety's page.
To complement the Bros with natural Mo's who showed up for the night, 3ciety and DEKL ensured that moustaches would be present everywhere that night.
There were stick-on mustaches being sold, the photobooth and even the glasses and cups brimmed with 'staches.
A Soft Launch for 3ciety
Besides topping off the fight for Movember, attendees for the night received an email announcing 3ciety's new project. 3ciety will introduce a C2C (Customer-to-Customer) element on top of their base B2C (Business-To-Customer) business model by automating the process for the public to easily open up their own stores and start selling.
The marketplace allows anyone to get an online store running on 3ciety and earn a profit from their own merchandise.
You can find out more about this here.
I have to say now that I've had a taste of Drink Entrepreneurs, I'm kinda hooked. If you're going for December's outing, see if you can spot me among the crowd.
Feature Image Credit: 3ciety's Facebook page